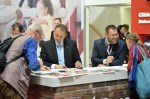 The twenty-eighth edition of the largest International Building Trade Fair in the Czech Republic is opening its gates for visitors this afternoon. The FOR ARCH Trade Fair is held at the PVA EXPO PRAGUE Exhibition Centre and will last till Saturday, 24 September. More than eight hundred exhibitors from fifteen countries of the world will present there the latest trends from the field of the building industry on an exhibition area of almost 21,000 square metres.
Within the framework of the accompanying programme it is furthermore possible to attend specialised conferences with participation of leading personalities in the sector, important nation-wide architectonic competitions as well as a practical programme for entrepreneurs and the general public. A great innovation compared to previous editions is given by various daily topics - quality of products, energy performance management, professional education, smart house concepts and self-built house constructions. Newly it will be possible to use also the independent BUILDING ADVISORY CENTRE where professionals will provide, free of charge, useful advice within the framework of the daily topics focused on the ways of how to manage various construction issues. In terms of additional topics, FOR ARCH will be complemented by the accompanying trade fairs FOR STAV, FOR THERM, FOR WOOD and BAZÉNY, SAUNY & SPA.
The FOR ARCH Trade Fair will start this afternoon by the largest CONFERENCE OF DIRECTORS OF DESIGN COMPANIES 2016 in the Czech Republic, where it is possible to listen to such speakers as Andrej Babiš, Minister of Finance; Karla Šlechtová, Minister for Regional Development; and Richard Brabec, Minister of the Environment. Another interesting part of the programme will be, in the subsequent days, for example the lecture entitled HEATING AND VENTILATION IN MODERN SAVING BUILDINGS, the conference FIRE SAFETY OF CONSTRUCTIONS and popular B2B business negotiations known as MATCHMAKING BUSINESS MEETINGS. Precious information will be provided to visitors by such conferences as HOW TO PURCHASE HOUSING and SELF-BUILT HOUSE CONSTRUCTION. For the first time it will be possible this year to use services of the CONSULTANCY CENTRE FOR WINDOWS AND SHADING TECHNOLOGIES which is to be open for the entire time of the event.