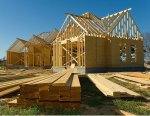 The unique concurrence of FOR PASIV and FOR WOOD trade fairs will become a number one of its kind in the Czech Republic in 2019. Popular event will be held at PVA EXPO PRAGUE in hall n.2 that covers 4 000 square metres of gross exhbition area. The number of exhibitors will increase and there will be a significant increase in the nomenclature, mainly in the field of heating.
Moreover, FOR PASIV trade fair is returning back to its long tradition, i.e. connection with the FOR WOOD trade fair, that replaces ALL ABOUT WOOD trade fair in 2019. The 12th edition of the FOR WOOD trade fair specialises in wooden structures and products that meet the demand not only of the exhibitiors, but also visitors!
FOR WOOD is focused on the use of timber in the construction industry. There will be introduced technological innovations and modern materials that enables to design demanding wooden structures. The trade fair represents great opportunities for investors that want to personally meet individual businesses and learn the important information about specific products and technical innovations in wooden industry.
FOR WOOD 2019 and FOR PASIV 2019 are held during 7 – 9 February 2019 at PVA EXPO PRAGUE.